60 in 60 #32 Busselton Part 2.
I am reflecting on the last 60 years, and writing 60 blog posts. 30 about people and 30 about events, places, experiences and entities.
Busselton was a great place to live, work and raise our family. It's quiet, pretty, near the beach, near the bush and not too far away from Perth which enabled me to go up to the city fairly often and stay in touch with my mates and the footy.
Sophie Jordan and Paul all went to Cornerstone College where Graeme Cross was Principal and Stu Robinson was the Bursar. Paul started playing soccer for Cornerstone on a Saturday morning and within a couple of seasons I was coaching his team. I coached the same core group of kids for the next several seasons as they played against local teams from Capel, Margaret River, Dunsborough and Busso. Jordy played for the older team for a few seasons as well but it was Paulie who had the most talent. He always loved playing sports of all kinds and was naturally good at most things. In his last couple of years in Busso he played for the Leeuwin-Geographe rep team at Country Week up in Perth.
Meanwhile, Cornerstone got better each year as the kids matured and learned to play as a team and employ the tactics and skills I was teaching them. Coaching was fun most of the time but early games on a Saturday morning could be challenging because I had taken on a second job, driving taxis on a Friday and Saturday night.
I've always been a night owl, and I enjoy driving so with that skill set, driving cabs suited me pretty well and brought in some handy extra dollars. The regular pick-up points were the Nade (Esplanade Hotel), the Ship Hotel and the wine bar in the main street. I'd pick passengers up from all over the district and bring them into town sober, then collect them and take them home drunk late at night. The pubs shut at 1.00am and the rush hour usually lasted a couple of hours. Regular fares to and from Dunsborough were profitable, occasional fares to Margaret River or Bunbury were lucrative and one time, a fare to Perth cost the passenger $330 and toward the end of the trip he was trying to convince me he was Jesus!
Most passengers were good most of the time but every now and then they got under my skin, or were abusive, or did a runner. I saw plenty of strange things on the long nights in the cab and drank plenty of Vanilla Diet Cokes to keep me going. It was not uncommon to get a fare that just wanted to go out to the "24 houry" servo for a feed of greasy junk food after a night on the grog, or to be taken through Maccas drive-through when it came to town because they wouldn't serve walk through customers. It was not uncommon to pick up kids I knew from work and teachers too. Nick and Kerry Fucile were frequent customers.
So after a late night behind the wheel, it was quite an effort to drag myself out of bed to go and coach the kids but I'm glad I did. They were full of energy and enthusiasm and Paul along with 3-4 others were very good players. The highlight came in my last game in charge prior to our move to Victoria. We had made it to the Grand Final against Busselton United to be played at Margaret River on a Saturday morning. My niece Aimee was to be married in Perth in the afternoon! Cornerstone were the underdogs but the kids played out of their skins and thanks to a brilliant free kick goal from Ben Cross we won the game 1-0 and the Cup. I barely had time to hug and high five the kids and parents before jumping in the car and heading for the wedding, making it with minutes to spare.
Nick was responsible for a brief revival in my own sporting career when he invited me to join the Busselton Masters footy team, footy for old blokes. They were a great bunch of blokes and it was fun but as I told Carolyn, I had enough energy to chase after the ball, or to bend down and pick it up, but not both! I played about 20 games all up over the 6 years and even picked up a medal for being in the best players at one of the carnivals in Perth but it was obvious to me, and anyone who was watching, that my best football was a long long way behind me. I also played volleyball all the time we were in Busso, sometimes with kids from the high school as they prepared for Country Week but most of the time with mates. We played A Grade which was very competitive, they take their volleyball very seriously in Busselton. We were 2 sets up in a preliminary final in one season when I came down from a block and landed on an opponent's foot across the net from me badly twisting my ankle and necessitating a trip to hospital in an ambulance. Not only did it signal the end of my volleyball career, the team went on to lose the prelim 3-2 in my absence!! I was the referees coordinator for 3-4 years as well.
Sport in Aussie country towns brings communities together and it provided me with opportunities to establish my role at the school as well. As mentioned in the last chapter I coached the footy team in interschool competition although without the success I'd experienced at Carine. Each year schools from all over regional Western Australia send teams of upper school students to Perth to compete at Country Week in all sorts of sports, from footy and soccer to netball and dance. I went as soccer coach the first year and volleyball coach the next before taking on a much bigger role as Country Week Manager. I had watched a teacher do it the previous year and felt frustrated and annoyed as she continually berated the kids in the lead-up, hassling them about forms and fees and always seeming to come from a place of anger and harshness. I asked the Principal if I could take on the job and she happily consented. I'd like to think I brought a kinder gentler spirit to the job. The team grew to over 100 kids and a dozen staff so there was a lot to organise but it all went off pretty smoothly. John Duthie, head of PE was a great ally and Nick brought character and humour to his coaching of the girls hockey "Nick's Chicks with Sticks". One year the bloke who normally arranged our lunch catering wasn't available so I employed Sophie to do the food and after a shaky first day she quickly got it sussed and did a great job feeding the masses. I rejigged the evening programs to cut down on unnecessary bus travel by utilising venues in the city for the Country Week dinner and a night out at the movies. I spent each day in the car visiting all the different sports venues, dropping off lunches, taking injured kids to hospital and dealing with stuff that needed doing. I loved it and continued in the role of Country Week Manager even after I left the chaplaincy.
In 2006 the Commonwealth Games were held in Melbourne. Having had such a brilliant experience at the Sydney Olympics with the kids in 2000 I was very keen to take the younger two, Jordan and Paul to Melbourne. I just needed an excuse. Then it hit me, organise a school trip and take a bunch of kids from Busselton! Brilliant! Thankfully Raelene, the Principal didn't object and cautiously supported my plan. I think she secretly doubted I could pull it off given the short time frame but I'm always up for a challenge and promptly put out a notice calling for kids who were interested, to come to a meeting at lunchtime a couple of days later. I had put together a budget and itinerary for a 10 day trip that would cost about $1000, covering airfares, Comm Games tickets, accommodation, transport and food. I was delighted when over a dozen kids turned up to the meeting although slightly surprised that they were all girls except for one boy! Disappointingly rather than invite a few mates he dropped out, leaving me with a group of 12 girls all keen to go, along with my two boys and a female PE teacher.
We got busy, I applied for tickets to as many different events as I could, one day and one night event each day, booked the airfares and set about finding accommodation.
I called on the chaplaincy network to make contact with some schools in Melbourne that would consider billeting our group and I was rapt when Chris Helm, chaplain at Box Forest College in Glenroy contacted me to say they were keen. It turned out that Chris is the drummer in a very cool indie band called Skipping Girl Vinegar when he's not being a chaplain. I went over to Melbourne to meet him and the Principal, Cheryl Baulch who was super supportive of the whole idea and when it turned out to be too hard to get enough billets for us all, offered to let us stay in the school itself. We could use a couple of unused classrooms as our quarters and had access to the Home Ec room opposite to prepare and eat our meals. It was a perfect arrangement and suited us down to the ground as it made coordinating our movements and transport much easier. They even gave us the school bus to use to get to some events that weren't as easy to get to by train. To top it all off, Chris picked us up from Avalon airport on arrival and dropped us back there the day we flew home.
The Commonwealth Games were great and we saw hockey, swimming, cycling, athletics, basketball, volleyball, table tennis, squash, weightlifting and boxing. I had made ID cards on lanyards for everyone and when we all bought the same zip-up track jackets with "Australia" on the back we started getting asked what were the girls competing in? as people mistook them for athletes and me as their coach! Needless to say the kids loved it! There were night activities at Birrung Marr, along the banks of the Yarra, shopping at the Queen Victoria Markets, tram and train rides and the wonderful atmosphere across Melbourne to enjoy and the 10 days flew by.
There were two unexpected outcomes from the Comm Games trip. The first to do with a fish, the second to do with footy.
Throughout the course of the games and featured in the opening ceremony, at the MCG, were a series of 72 large fish sculptures on barges on the Yarra, each representing one of the countries competing in Melbourne and typifying a fish found in their nation's waters. They were lit up at night and with "Unguarded Moment" by The Church playing all along the riverbank they made a spectacular sight, creating a beautiful ambience for the crowds of people out each evening. I said to the girls one night, "I wonder what they're going to do with those fish after the Games are over? Wouldn't it be cool to get one of those fish for Busselton?" They looked at me strangely and kept walking.
But!
Imagine my surprise and delight a few weeks after we got home when I came across a small article in the newspaper saying that seven of the Commonwealth Games fish sculptures were being auctioned off on ebay with the proceeds going to PLAN, the official charity partner of the Games. I sprang into action and started calling and visiting people all over town, creating a network of supporters willing to contribute some money to a fund in order to buy a fish for Busselton. My idea was greeted quite warmly and people started pledging amounts from $50 to $500 and giving me suggestions of people to call. One of these became the game-changer when I called a bloke called Ray who worked for Pro-Busselton, an agency whose mandate was to promote the town through initiatives that raised the profile of Busselton. He was fully on-board, and even suggested we should bid on all seven fish! We had a budget of about $7000!
The night before the auction ended I had to take a trip up to Perth and back, something I rarely did in the one day, let alone the one night. The bidding finished the next morning at about 8am WA time so I was a little groggy when I logged on to ebay. The kids were standing behind me to watch the action. Most serious bidding on ebay happens in the last few minutes and that's exactly what occurred, the prices started jumping very quickly, by hundreds and thousands of dollars. Some were already out of our price range but I was alive in two auctions in the last minute. As quickly as I'd enter a 4-digit figure I'd be outbid. I kept bidding higher and watching the numbers shoot up across the screen. In the end I managed to win one auction, for the African Bony-Tongue fish sculpture from The Gambia, for about $4500. It was exciting, exhilarating and nerve-wracking, especially bidding with other people's money. In total the sale of the seven sculptures raised over $28,000 for PLAN I think.
The next job was to get it from Melbourne to Busselton. I called my mate Gary who builds large machinery and asked if he had a transport contact he could recommend. He did and I made the arrangements to get it on a semi-trailer, but before that it needed wrapping for protection. I called Chris from Box Forest and by fortuitous coincidence, he and the members of Skipping Girl Vinegar were only a couple of kilometres away and were happy to help. They bought a big roll of bubble wrap and went to work wrapping my fish. A couple of weeks later it arrived in Busso but sadly that's where this fishy tale went bad.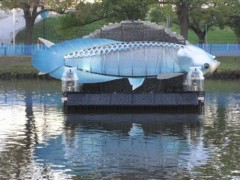 Our fish, An African Bony-Tongue
Initial enthusiasm waned, the council weren't keen on having it or putting it on display even though there was a perfect location at the entrance to the town. It was stored at the Men's Shed for several months before being moved to the high school and living outside the art department. I hoped it would be attached to the wall of the art building but by the time we left Busselton in early 2010 it had still not found a permanent home and when I last asked about it no-one seemed to know what had happened to it.
However, in researching for this article I came across a couple of websites that tell a little more of the story and even give a clue to it's whereabouts.
I was contacted by a girl online a couple of years ago who has made it her personal quest to track down each of the 72 Fish and she has a blog detailing her mission, complete with photographs, Fish Blog I even get a mention if you click on the map.
After the Comm Games most of the sculptures were given to shires all over Victoria and I have seen several of them in towns around the state in my travels. We actually stopped to look at one at Anglesea this afternoon. The fish I bought was the only one to leave Victoria. This website, Fish locations, details information about the names, origin and known locations of the fish now.
After the success of the Commonwealth Games trip I began thinking of other possibilities and that led to me running two footy trips to Melbourne in 2008 and 2009. It wasn't hard to find kids who loved football and who wanted to spend a week in Melbourne going to as many footy games as possible! Box Forest were happy to have us again and I managed to get good airfares and footy tickets to make the trips affordable. We went during the July holidays so the kids didn't miss any school. On the first trip in 2008 I took ten kids and we went to Carlton v St Kilda on Friday night, Geelong v Fremantle and Essendon v Brisbane on Saturday and Hawthorn v Sydney on Sunday as well as the Queen Vic markets, National Gallery and Melbourne Discovery Centre. At the end of the trip the other staff accompanied the kids back to WA while I flew up to Sydney to join my mate Alex for the Pope's visit for World Youth Day.
In 2009 Geelong and St Kilda remained unbeaten until their epic encounter in Round 14 and as anticipation of this clash grew I set about organising another footy trip. I was more ambitious this time and worked out a schedule that took us to six games over two weekends including a stopover in Adelaide on the way home. Fourteen kids signed up for the trip including one brave girl and Sophie came with us. It was a fantastic trip except for one thing. Between the group we barracked for six different teams but not one of us saw our team win!
The Cats v Saints game at Docklands was a classic, befitting their status at the top of the ladder and the biggest crowd ever at Docklands saw a thriller with St Kilda winning by a goal after a goal from Cameron Ling in the last minute was disallowed. They met again a few months later in the 2009 Grand Final and this time the Cats got up by 12 points to win the flag, but as detailed in chapter 24 of "60 in 60" that did not end well for me.
Between the weekends of footy we took a trip to Sovereign Hill at Ballarat and stayed a night at a school there then stopped for a kick of the footy at Hanging Rock on the way back. We went to the AFL Hall of Fame and National Sports Museum as well as going down to Geelong for a day. I had arranged another school to stay at in Adelaide which worked out well but the Dockers got absolutely thrashed by the Crows that night to finish off a series of six losing games.
The following is an excerpt form chapter 24 about the Geelong v St Kilda game.
Now, in 2009, with the big game approaching I hit on the idea of running a footy trip and taking a group from Busso to Melbourne. I asked Sophie to come with me to help run the trip. Fourteen kids signed up and I got busy organising everything, including staying at Box Forest again. The biggest challenge was securing tickets for the Geelong St Kilda game. On the morning they were released I frantically logged on to Ticketmaster and bought batches of tickets in groups of 4 or 5 as I knew it would be too hard to get 16 tickets all together. I was successful. My group of West Aussie kids had tickets for the game of the season. The trip itinerary included five other games across two weekends of the school holidays with a stopover in Adelaide to see Fremantle play the Crows on the way home.
The trip was fantastic and the game lived up to all the hype and expectation. It was a cliff hanger, with Cameron Ling kicking a goal to level the score in the last minute, only to have it ruled out by a free kick to St Kilda and the Saints hung on to win by 6 points. It is often talked about as one of the best games in AFL history and certainly whetted people's appetites for a rematch in the finals.
Life in Busso was not all about sport though. I will conclude the Busselton section of 60 in 60 next time with stories about many other things that happened during our six years down south.